Barack Obama visited the house of Tom and Mary Ayers, parents of former Weather Underground activist turned education professor Bill Ayers, in the mid-1980s to thank the Ayers' for their support of his education, according to Allen Hulton, the letter carrier who delivered mail to the Ayers' Glen Ellyn home at that time. Glen Ellyn is a suburb of Chicago, southwest of the city.
Hulton spoke to King Harvest at length about his experience. The statement by Hulton is the first eyewitness account of a possible relationship between Obama and Tom Ayers and the first that dates his relationship with the Ayers family to the mid-1980s.
It is acknowledged widely now that Bill Ayers and Obama had a close and longstanding relationship because of the role that Ayers played in promoting Obama's career including, for example, Ayers' appointment of Obama as Chairman of the Chicago Annenberg Challenge, the $150 million education reform effort that Ayers founded in 1994. Bill Ayers and Bernardine Dohrn held a campaign event in their Hyde Park home for Barack Obama in late 1995.

This blog has also suggested, however, that Obama may have had a relationship with Tom Ayers in light of the importance of the senior Ayers in Chicago politics and his role in the same educational issues as Obama. In 1988 Obama's Developing Communities Project (the "DCP") joined the Alliance for Better Chicago Schools ("ABC's"), a lobbying alliance, to push for the reform of Chicago schools through the creation of so-called "Local School Councils" ("LSC's") that would watchdog teachers and administrators.
The proposal was very controversial and groups like Operation PUSH headed by Jesse Jackson did not support it because many teachers were black – it was one of the first stable middle class careers a black person, and black women in particular, could aspire to in Chicago. Tom Ayers and Bill Ayers were strong supporters of the LSC's, however, and Chicago United, a group founded by Tom Ayers, joined ABCs too. Bill Ayers became chair of ABCs.
In addition, a senior Democratic party activist who was involved in the Obama campaign including direct contact with Obama confirmed that the relationship between Obama and Bill Ayers went back to the 1980s, the time period of Hulton's encounter outside the home of Tom Ayers. Most recently, credible evidence has emerged that Bill Ayers ghostwrote the Obama memoir Dreams from My Father, which was published in 1995.
The Obama Presidential campaign denied any close ties between Obama and Bill Ayers and said initially they only met in late 1995 when Ayers and his wife Bernardine Dohrn hosted the event in support of Obama's campaign for the Illinois State Senate. They later admitted the two had to have met earlier in light of the role both played at the Annenberg Challenge.
As President, Obama has not yet been asked about the Ayers relationship and has, as far as one can tell, never been asked about his relationship with Tom Ayers.
At the time of their encounter, Hulton recalls, Obama "looked about 19 years old" but was probably in his early 20s. Obama graduated from Columbia University in 1983 and moved to Chicago in 1985 at age 24 or 25 to head up the DCP, a fledgling community organization modeled after similar groups started by Saul Alinsky, on the south side of Chicago. The DCP had secured a grant from the Woods Fund, endowed by the Woods family, to finance the hiring of Obama.
The Woods family owned Sahara Coal Company, which supplied coal to utility companies in the Midwest possibly including Commonwealth Edison. Tom Ayers was Chairman and CEO of Commonwealth Edison from 1973 until 1980. Ayers died in June of 2007 at the age of 92 in Hyde Park where he had been living with his son Bill and Dohrn.
"Mrs. Ayers told me that her family had been helping out a brilliant young black man," Hulton said and whom he believes she said was from Kenya. Hulton said that over the period of six to ten years that he delivered mail to the Ayers home he had numerous conversations with Mrs. Ayers, one conversation with Thomas Ayers and several brief encounters with Bernardine Dohrn who he said lived at the home for several months at one point in time. He never met or saw Bill Ayers at the home.
Hulton explained that he knew Tim Ayers, the son of Tom and brother of Bill, when they were both students at Glenbard High School, which draws students from the towns of Glen Ellyn and Lombard, Illinois. Over time the Ayers' parents became aware of the connection to their son Tim and that led to a friendlier relationship between Hulton and Tom and Mary Ayers.
"They tipped me generously at Christmastime," Hulton recalled.
One day Hulton found himself on the sidewalk outside the Ayers home at [REMOVED]** Avenue near the corner of Revere Road just after he had delivered the mail. The house was "very nice and attractive and more expensive than some in Glen Ellyn because it was closer to downtown, but it did not stand out among the houses on that block." He said the largest and most expensive homes were actually on Revere, around the corner from the Ayers' home.
As Hulton was on the sidewalk walking away from the Ayers house a tall and thin young black man was coming up the same sidewalk towards the Ayers house.
Hulton recalls that Obama said hello and introduced himself and stopped to chat with him in front of the Ayers house. "I recall that his ears stuck out a little bit. He was more gaunt then than he appears now. His name was an unusual one and when I saw his photo during the campaign it brought back my memory of the event," Hulton said.
Mr. Obama explained that he had taken the train out from Chicago to visit the Ayers' in order to thank them for their help with his "education." At this time, Mr. Obama had recently graduated from Columbia and would soon enter Harvard Law School. Hulton and Obama "spoke for a few minutes, first chatting about the Ayers family," Hulton said. Hulton said he did not learn whether the help Obama received from the Ayers' was financial or in some other form.
Hulton agreed that it was an exceptional event to encounter a black man on his route and that Obama may have felt it prudent to introduce himself to the letter carrier before approaching the Ayers house. Hulton usually delivered mail on Montclair at mid-day, "sometimes as early as 11:30 in the morning or as late as 12:30 or 1:00 PM."
Hulton says he recalls when the very first black family moved into the upper middle class white suburb in the 1960s. Hulton says at the time, after he had come out of military service, he was a supporter of Martin Luther King who had pressed for fair housing in the Chicago area. "I took some flak about my support for civil rights from my fellow workers at the time," he said.
Mr. Hulton recalls that he probably asked what Mr. Obama was studying in school and at one point Mr. Obama said that he intended to become President of the United States. Mr. Hulton said he was "taken aback" by the statement but recalls that he did not think Mr. Obama was "arrogant, but just self assured and a person with a lot of self confidence." "It was not said with hubris," Hulton recalled, "but with an air of self-assuredness."
"I told him there was no reason why he couldn't become president," Hulton recalled. Obama was dressed "nicely but casually, a slacks and shirt, not jeans and a t-shirt, but definitely not a coat or tie," he said. After the brief conversation Hulton continued on his route and did not turn back to see whether the Ayers' were at home or whether Obama entered their house.
Hulton delivered mail in Glen Ellyn for 39 years with two years off to serve in the U.S. military. He retired in 2001 and is now 66 years old. King Harvest confirmed his employment as a letter carrier with Ray Wasz, Finance Supervisor of the Glen Ellyn Post Office.
Hulton said he encountered Tim Ayers at a high school reunion recently where Tim spoke in a "wide eyed way" of Bernardine Dohrn's career as a law professor. "She is a star and her students love her," Hulton recalls Ayers saying.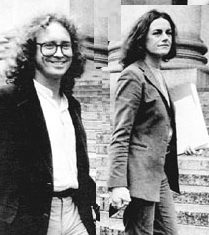 Dohrn is a member of the law school faculty at Northwestern although she was prevented from becoming a member of the New York bar because of her criminal record and background in the Weather Underground. Hulton said that Mrs. Ayers told him that her husband Tom was trying to help Dohrn become a member of the bar.
Dohrn and Ayers surfaced from the underground and turned themselves into the authorities in the early 1980s. Charges against Ayers were dropped and Dohrn entered into a plea bargain that allowed her to avoid jail time.
But later she was jailed for six months for her refusal to testify in front of a grand jury about her possible role in providing false identity cards to several former Weather Underground comrades who participated in a bank robbery where two police officers and a security guard were killed.
Mrs. Ayers told Hulton that she and her husband had been in contact with their son Bill and Bernardine while they were underground using "code" to communicate. "They had 'ways to communicate' she told me," Hulton said. Hulton encountered Dohrn three or four times during his time as the Ayers' letter carrier because he had to confirm that she lived there and secure her signature for certified mail deliveries to her at the Glen Ellyn home. Hulton said Dohrn was never friendly with him but rather "was a sourpuss, she never smiled."
Hulton had one encounter with Tom Ayers who politely asked Hulton about his work. Hulton said he told Ayers that he thought there were problems with the senior management of the Post Office and that he wasn't always happy about the work habits of some of his fellow workers. "You know, ordinary gripes about work," Hulton recalls. "I couldn't believe how he responded. He started to go on about workers having to struggle to survive and about peasants and the proletariat. It made me think later that he might be a Marxist!"*
*Mr. Hulton contacted King Harvest on September 27, 2009 to indicate that his original recollection of the conversation with Tom Ayers relayed to King Harvest was inaccurate.  Mr. Hulton states that instead of the words "peasants and proletariat" Tom Ayers referred to "the struggle between the common man and those with the means or power" in society.
**In light of renewed attention to this story as of March 19, 2012, I removed the precise address of the Ayers' house in order to protect the privacy of the current residents. 
UPDATE: An affidavit filed by Mr. Hulton on Nov. 12, 2011 states the encounter with Obama took place in the  early 1990s not in the mid-1980s. The affidavit says that Mr. Hulton started as the letter carrier in Glen Ellyn in 1986 when, according to Mr. Hulton, Tom Ayers was Chairman of Commonwealth Edison. However, Mr. Ayers retired from Commonwealth Edison in 1980 as indicated in the original post above. While Mr. Hulton now states that Mrs. Ayers said only that her family was assisting a "foreign" student, Mr. Hulton told me he recalled her saying he was from Kenya.