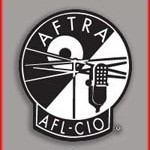 The American Federation of Television and Radio Artists, or AFTRA, surprised many in the entertainment and media industry yesterday with a call for the formation of a new union to represent employees in the industry. While AFTRA and SAG have been expected to re-open merger talks at some point, the unilateral proposal by AFTRA was not expected. The details are not yet known but in an Open Letter to its members AFTRA leaders called for a "new union for a new world."
The letter suggests the new union would include actors, performers and broadcast journalists. The letter argues that the major motivation for the new organization would be to "build power" not just reduce the costs of running two unions side by side in the overlapping industries.
Currently, SAG and AFTRA share tens of thousands of members yet have separate pension and health care plans and separate paid professional staff. A merger would presumably have some cost cutting impact at a time when dues flows to the guilds has slowed.
The letter surprised many because one of its signatories, Ron Morgan, an AFTRA Vice President, had only this past week come on to a SAG dominated discussion board to deny that merger was in the works at all.  In light of the mistrust between many in the two organizations Morgan's behavior was viewed as disingenuous at best. Morgan contends that he only meant to suggest that merger could not take place until after the current round of bargaining was over.
However, the larger question that remains unresolved is how, exactly, a larger new union would change the dramatic loss of leverage of performers in the industry. SAG remains a largely actor dominated organization and many argue, credibly, that the conditions facing actors are significantly different from those facing journalists. Therefore, instead of a merger of both kinds of industry employees, actors should be reassigned to just a larger version of SAG while AFTRA concentrates on journalists.
SAG is currently run by more moderate pro-merger forces and the Guild and AFTRA have committed to engage in some form of joint bargaining with the AMPTP later this year when contract talks over their major contract covering TV and film get underway. But to date neither union has begun any public effort to increase union leverage in advance of the talks. Thus, one test of AFTRA's commitment to "build power" will be whether they suggest any innovative approaches to the upcoming bargaining round.
To date, the unions have signaled a reluctance to strike which means they must develop other means to change the balance of power prior to the start of talks. Little sign of that yet, however. The unions seem to be relying on the old method of just soliciting input from the members and then showing up at the table and making demands.
AFTRA had its origins in live radio performances and then helped form a Television division which attempted to compete with SAG in representation of actors in television motion pictures.  A running battle has continued between the two groups for several decades, most recently over the success of AFTRA in winning representation in a large number of pilot programs, territory once dominated by SAG.
The AFTRA "new union" approach is similar to that being taken by groups like SEIU and the Teamsters which favor lumping large numbers of workers into large local unions across occupations.  Typically such unions end up with very centralized staff power which gives that staff some leverage in bargaining and the political arena but at the cost of internal union democracy.  Recently, inside SEIU there has been a revolt against these organizing methods leading to a breakaway group in California known as United Healthcare Workers. The conflict has pitted many erstwhile labor allies against each other in a costly legal and political battle.
While that kind of conflict is unlikely here, the argument made by AFTRA would seem to open the door to amalgamation with Actors Equity and the IA, as well. AFTRA recently formed an alliance with the IA and was also elevated to the Executive Council of the AFL-CIO. SAG President Ken Howard is also on the EC but only because of SAG's membership in the so-called 4A's, a longstanding alliance of performers unions that pre-dates the AFL-CIO.
The new initiative by AFTRA could not have taken place without the tacit approval of the AFL-CIO hierarchy and likely was made known to the SAG leadership in advance. It is not clear why SAG would allow AFTRA to jump first but the momentum is clearly with AFTRA and that may set the tone for the negotiations to follow.