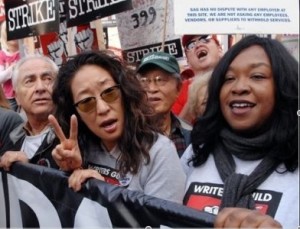 Like SAG, the Writers Guild elected leadership moved towards what was thought of as a more moderate group in the wake of a lengthy strike in 2008. But that has not stopped the WGA from taking a more aggressive approach than SAG. In fact, instead of ousting their NED as SAG moderates did, the WGA kept labor veteran David Young on board in the top staff spot thus taking advantage of his many years of experience in several different union environments.
The WGA is seeking a range of improvements in pay and working conditions and have once again signaled an interest in improvements in the residual payments for home entertainment such as DVD's, which continues to be a multibillion dollar source of cash flow for the studios even in the face of growing competition from online streaming video sources such as Netflix and Hulu.
Jonathan Handel, a former WGA in house counsel and now on the labor beat for The Hollywood Reporter, has the details in the story linked below.
Sadly SAG has already decided to throw in the towel and seek contract ratification on a deal hammered out in a few weeks more than six months before the contract expiration date of June 30, 2011. This leaves the WGA once again on its own in bargaining. This likely reduces the potential for a strike but is a sign that the embers of a healthy labor movement still glow in Hollywood as Christmas approaches.
WGA Sends Out Pattern of Demands Seeking Major Contract Improvements – The Hollywood Reporter.