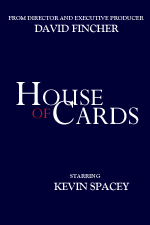 This has been a long time coming. Netflix is signing up as a distributor of a genuine Hollywood TV production.
This represents a significant move up the food chain for the Valley.
For nearly a decade now VC backed startups have been looking for ways to use new technology to impact the entertainment and media business. Already established tech companies like Apple and Netflix have been playing important but secondary roles in the complex means by which filmed entertainment gets to consumers.
But Netflix is taking things to a new stage leveraging its success with on line streaming (now a staple in our house where our 2 year old loves to scroll through dozens of cartoon offerings on every screen in the house, including TV, laptops and iPhones; Mom and Dad, hmm not so much) to get exclusive rights to a Kevin Spacey-starring film called "House of Cards."
The producer is Media Rights Capital, which is also interesting as they emerged out of a relationship with a major talent agency, Endeavor (now merged with William Morris).
Both aspects of this deal – finance and distribution – highlight the shifting architecture in the EMI sector towards new players. Meanwhile, the sector's unions still are trapped in their longstanding collective bargaining relationships thus depending entirely on the studios to insure fair revenue sharing despite the declining weight of studios in the overall structure of the industry.
Despite the strong financial health of the industry, the unions have secured only modest gains in basic pay rates, benefits and conditions in this year's bargaining. SAG and AFTRA have been consumed instead by internal debate over a potential merger which the studios appear to favor in light of their agreement to produce most cable pilots under AFTRA's contract. The Writers Guild is in negotiations now trying to secure more than other industry labor groups, but left to go it alone against the studios that will be an uphill battle.
Tech Crunch gets it. I have written in the past about these and related issues here, here and here.
Netflix Gets Into The TV Business With Fincher Deal – NYTimes.com.