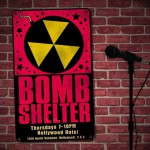 SAG comic, Allen Lulu, has never, as far as I know, played a lawyer in reality or on TV, but that has not stopped him from misinterpreting federal labor law in pursuit of his goal of promoting the SAG-AFTRA merger.
Let's take a closer look at Mr. Lulu's argument. Maybe we can stop him from bombing during his next appearance in a SAG video. (Click here to see how Mr. Lulu misleads his own brothers and sisters in a video promoting the merger.)
Some time ago merger opponents proposed that SAG pursue something they called a "global bargaining unit" to cover actors working in digital cable. Their hope has been to enable actors in cable pilots to have a genuine choice about which union, SAG or AFTRA, should represent them. Alternatively, they contend that these same actors should be able to petition the NLRB for a "unit clarification" which would mandate that the NLRB place them inside already existing bargaining units where SAG is the exclusive bargaining representative.
This issue is important because merger proponents claim that if merger fails there is no end to the growing tensions between SAG and AFTRA. Of course, that argument has been to some extent self-perpetuating. AFTRA has been the beneficiary of so-called "promulgated" agreements with cable producers over the last several years. Thus, cable pilots have been awarded overwhelmingly to AFTRA most likely because the producers were angered and frustrated by the strategy that SAG's former Membership First leadership implemented in 2008.
If merger were to fail, however, a campaign for either unit clarification or a new bargaining unit that would allow actors self-determination makes eminent sense. Then SAG and AFTRA would be forced to compete to convince actors which union would be the better representative. Union competition often results in stronger outcomes for workers and of course it minimizes the chances for the third option, No Union, to be voted in.
But is there really a basis in labor law for these approaches? Non-lawyer Mr. Lulu says no. He argues that bargaining units must be implemented on an individual "employer-by-employer" basis and thus there is no such thing as a "global" bargaining unit. (Apparently joining Mr. Lulu in this conclusion, if reports of a recent SAG town hall are accurate, is SAG General Counsel Duncan Crabtree-Ireland.)
Unfortunately for Mr. Lulu his understanding of federal labor law is barely an improvement over his understanding of the impact of merger on actors' benefit plans. While the NLRB does not use the term "global" bargaining unit, it does, with frequency, recognize the existence of multi-employer bargaining units.
In fact, Mr. Lulu, if he works in the film or TV business under a SAG contract, is a member of such a multi-employer bargaining unit. The AMPTP, the bargaining agent for multiple production companies, negotiates on behalf of the employer side of a multi-employer bargaining unit and SAG and AFTRA represent the employee side of that same unit. You can find multi-employer bargaining units in many industries, including trucking and professional sports.
When TV first emerged in the 1950s this is exactly how SAG and AFTRA (actually, its predecessor the Television Authority) resolved their conflict over films made for distribution on TV. In one case, for example, AFTRA/TVA wanted actors included in an already existing bargaining unit it had established at CBS. SAG, however, succeeded, as it had in other similar cases in having those film for TV actors assigned to a separate new bargaining unit. AFTRA was free to contest for the allegiance of those workers in an election.
In another case, much more significant, SAG also prevailed in winning rights to represent actors in a multi-employer bargaining unit in negotiations with the employers organizations of that period representing "almost all the motion picture producers in this country." The NLRB decision noted the existence of a "multiple-employer bargaining pattern" going back to the 1930s. The decision went on to agree with SAG that actors made up the constituency of a number of multiple-employer units. Elections in those units were ordered and SAG prevailed.
More recently, other unions in the entertainment industry have used "unit clarification" petitions to defend their jurisdiction successfully. NABET, a division of CWA which represents some writers and editors working for NBC succeeded recently in front of the NLRB when NBC tried to recast these workers as so-called "content producers" who fell outside the NABET bargaining unit.
So there is nothing preventing the NLRB from considering a petition either:
1) to clarify the existing multi-employer bargaining unit so that it is understood that actors on cable pilots, to take one example, should be part of that existing unit; OR
2) to consider the argument for the creation of a new multi-employer bargaining unit consisting of all actors who work in cable scripted drama.
A SAG filed petition for clarification might have to be linked back to those original NLRB bargaining units in order to succeed. While some of the original production companies have likely disappeared and there may be legal objections to including others, there is likely also some continuity with today's producers. Among the employers then were Columbia, Fox and Universal, for example, which exist today as well. If these same production companies are now employing actors on cable pilots those actors arguably are still part of that original bargaining unit.
For those actors who fall outside of the existing multiple-employer bargaining unit or units, it is feasible to consider a new multi-employer bargaining unit. In fact, SAG attempts to use a master agreement with a group of cable companies now and that would provide some precedent for the logic of a new multi-employer bargaining unit.
Of course, the map of bargaining units is separate from whatever jurisdictional agreement competing labor unions may have reached amongst themselves. Jurisdictional allocation is an issue within the labor movement. There have been in the past attempts to allocate jurisdiction between AFTRA and SAG that may or may not cover the current battleground over cable pilots. But that is an internal political issue for the labor movement not a question of federal labor law.
In any case, there is nothing in federal labor law that creates any per se barrier to the resolution of this issue either with a petition for unit clarification or a petition to establish a new bargaining unit leading to a union election.
Perhaps Mr. Lulu should stick to his own material.
The Unit Clarification argument against merger and why it does not & can not work..