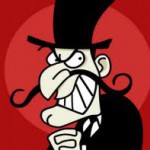 It is not widely understood but the labor movement in America has always depended for its survival on support from a certain layer among employers. This idea might come as a shock to many on the so-called "left" for whom the "boss" is always, like in a Snidely Whiplash cartoon, the enemy. But in the real world of building a strong democratic labor movement, in a culture that prizes a dog eat dog version of capitalism, winning over some segment of the employers is critical to union survival and even success.
How does a union do that? By making an argument that unionization can help build a stronger and more resilient industry because of higher labor standards such as better working conditions and improved pay. There is a wider benefit to these improvements felt beyond the pocket book of individual union members. A strong labor movement means a strong economy and that helps employers, too.
In other words, a strong labor movement helps win the battle against the "race to the bottom" in labor standards.
Over many years, SAG has done a good job in this regard in many of its markets. One example, apparently, is to be found in Oregon as evidenced by this OpenLetterToDavidWhite from Tom McFadden of the Oregon Media Production Association to David White, the NED of SAG-AFTRA.
Mr. McFadden writes: "we feel that growing and maintaining the U.S. share of business means supporting and protecting labor standards while holding performers to the standards of professionalism that our industry requires in those locations where the business is protected."
Such support from an association that represents employers as well as labor is relatively rare and raises an important question: what is the connection between the decision to shutter numerous SAG-AFTRA offices and the union's strategy to improve the conditions for their members? Does the current SAG-AFTRA leadership understand how to engage employers in fighting a race to the bottom in working conditions?
No public explanation is available which is fine, of course, since it may be appropriate to keep that strategy under wraps. But the problem is that much of the dissent about the shutdowns is coming from well known union activists. That suggests there is no clear connection to a strategy.
Some union activists argue that the shutdown proposal should have been brought to the upcoming union convention for debate. That makes a lot of sense because it would have allowed the union to debate the idea openly. Unfortunately, it is not the approach taken by the current union leadership. Perhaps Snidely has gotten to them already.