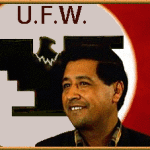 My spring seminar, Law and Labor in the Fields, is underway.
Our first guest speaker will be here this coming week, Thursday, January 30. He is Frank Bardacke, the author of a magisterial and award winning new history of the United Farm Workers called Trampling Out the Vintage: Cesar Chavez and the Two Souls of the United Farm Workers published by Verso.
The event is open to the public and will take place in Room 333 in Bannan Hall on the Santa Clara University campus, 500 El Camino Real, Santa Clara, CA 95053. It starts at 4:05 and runs until 5:45. The talk and discussion will be followed by a reception to which all who attend the talk are invited.
There will be several other public talks during the semester. The schedule for the entire semester can be found here: Seminar Schedule.
The seminar is dedicated to the memories of both Cesar Chavez, who passed away 20 years ago last year and the late Herman Levy, our Santa Clara Law School colleague who played a key role in drafting the Agricultural Labor Relations Act, who passed away ten years ago.
Links to video of presentations can be found here.