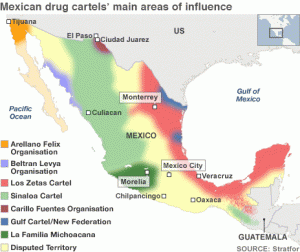 An important post by Pundita this AM. There is an insurgency underway in Mexico today – but the question is, who are the real insurgents?
Folks, forget Somalia, forget Yemen, forget Afghanistan, we have a failing state right on our southern border and as our economy continues to flail it will only get worse.
An earlier post here made an important point about the fecklessness of today's global elite – and the consequence that crime bosses increasingly fill the gap in today's world.
Pundita: Ah I see from this map of Mexico that weve had everything backward..