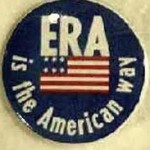 The Center for Socialist History has just published my book The Hidden History of the Equal Rights Amendment which I had the privilege of co-authoring with the late Hal Draper.
I drafted a new foreword for the book but it is otherwise unchanged from the original ms. which Hal and I finished in the late 1980's in the wake of the defeat of the ERA. There has been some research on the Amendment since and certainly some important developments with respect to the rights of women but the publisher and I thought it important to retain the argument as it was completed then, more or less contemporaneously with the end of that era of the women's movement. We did, of course, try to get it published then but ran into roadblocks which I describe briefly in the foreword.
The history we examine in detail is very much in the news today as this essay by Louis Menand in a recent New Yorker suggests. Menand gets some important aspects of the story wrong, however. I have sent the magazine a short letter in response and will wait to see if they print it before laying out my comments here.